The Friends of the A B C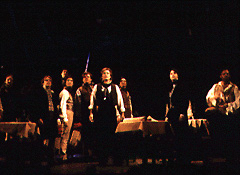 The Friends of the A B C: a group of revolutionary students and workers in 1832 Paris. Generally, they are a group of idealists who want to liberate the downtrodden in a revolution that sadly proves unsuccessful. Not much else can be said about them without dealing with them each individually.
Enjolras - has a separate page.
Combeferre - He was the philosopher of the group, open-minded and enthusiastic to learn. He was the thinker, while Enjolras was the leader.
Courfeyrac - He is described as the "centre" of the group. He seemed to be the one to hold them together with a feeling of camaraderie and fraternity.
Jean Prouvaire - He was the romantic of the group, its resident poet. He probably joined them because of their ideals for equality and freedom.
Joly - Despite being a hypochonriac, Joly seems to be the kind of guy that's hard to dislike. Even in the midst of his "illness" he was good-natured and even rather charming.
Feuilly - He was a worker, not a student like the rest. But he was an artist, and constantly trying to better himself through self-education, which he referred to as liberating himself.
Lesgles - You might call him happy-go-unlucky. His luck was terrible, but even so he was happy. His constant bad luck caused him to become inventive and resourceful.
Bahorel - Bahorel is not mentioned in the musical, only in the novel. He was a good-natured young man who liked to quarrel, and so he would have joined the group in anticipation of the coming conflict. He served as a link between the group and other unorganized groups around Paris.
Marius - has a separate page.
Grantaire - has a separate page.
Don't even ask me who the people in the picture are, they're too small to tell. But click on the picture and you'll hear the students from the TAC recording sing "Do You Hear the People Sing?"
They will see the people rise! (Characters)